From USA TODAY
Midwest is best, when it comes to the 30 best cities for older Americans in retirement
The best cities for older Americans have good access to health care, favorable financial conditions, and access to leisure activities such as golf.
Strong Towns - Rachel Quednau - Milwaukee, Wisconsin, where I live, is going through a massive building phase, with new construction popping up on every corner in and around our downtown and other popular neighborhoods. If you live in any number of mid-sized cities, this is probably a familiar story. And because recent trends in urban planning have encouraged a return to mixed-use developments, those sorts of buildings dominate the new construction landscape. It has resulted in some lovely new ground-level restaurants and shops emerging in areas that previously lacked much street life.
But here's the more common picture: a cookie-cutter five story apartment building over a vacant commercial space. This image is probably also familiar to you if you live in one of those cities experiencing an urban growth spurt. One might expect this set-up to last a few months, perhaps, while the apartment units are in the process of being filled and the building manager seeks a commercial tenant. But in fact, in my city, it's not unusual to see a commercial space sitting empty for months and sometimes years. There are buildings like this near my home and, while they may be a shade better than the derelict one-story structures or vacant lots that used to occupy the area, an empty space is an empty space. At the end of the day, a vacant storefront makes the whole street feel neglected and undesirable, and it isn't fulfilling its purpose.
At first, the whole scene just didn't make sense to me. What business owner wouldn't want to move into a brand new space with freshly painted walls, new windows and a blank canvas to lay out in whatever way suited the needs of the business? Why were these storefronts sitting empty?
A Problem of Scale
New businesses blossom all the time in my city. I seem to read about a new restaurant or bar opening almost every day. So there is clearly a demand for commercial space. Why not these newly built commercial spaces then, especially when most of them are in highly attractive, busy neighborhoods?
The basic answer is, of course, that the rents are too expensive for small businesses. And one major factor contributing to this cost is, undoubtedly, the size of the new commercial spaces being built in mixed-use developments. Glancing down a historic commercial street in my neighborhood, the new mixed-used developments stick out like a sore thumb because their ground-floor commercial units are much larger than the other, older commercial spaces on the street.
If size is the problem, why not just build smaller commercial spaces to begin with, or subdivide a larger space when you realize no one wants to lease the big one?
Wall Street Journal - Cecilie Rohwedder — Developers are building high-end homes in revitalized urban neighborhoods with waterfront views for residents drawn to quality of life and prime locations.
Randy and Gail Ross recently downsized from a suburban house on a lake near Minneapolis to a luxury condominium in the city's downtown district— but they still have a water view.
From nearly every room of their 14th-floor condominium at the Legacy, a new 374-unit residential tower in Minneapolis, they overlook the Mississippi River, as well as St. Anthony Falls and the historic Stone Arch Bridge.
inman - Bryson Masse —Predictive listings service RealtyHop says the metropolitan areas of Omaha-Council Bluffs, Des Moines and Pittsburgh are better bets than NYC or LA.
Where should Millennials looking to buy a home move to? RealtyHop, a startup sale and rental listings portal that attempts to predict what a property will rent for, crunched U.S. Census data and figured out the best metropolitan areas for millennials.
And the results are fairly surprising: famed destination cities NYC and Los Angeles did not fare well in the analysis.
The number one city for millennials today is the metropolitan area connecting Omaha, Nebraska and Council Bluffs, Iowa.
The next top two cities on the ranking are Des Moines, Iowa and Pittsburgh, Pennsylvania.
"When it comes time to pick a place to live, there's an astounding amount of both cultural and social pressure to simply move to where everyone else is – as a result of this, many people move to coastal cities like New York or Los Angeles because it's 'the thing to do,'" wrote RealtyHop. Instead it presented a more evidence-based approach to picking cities to move to as a millennial.
Here are the top 20: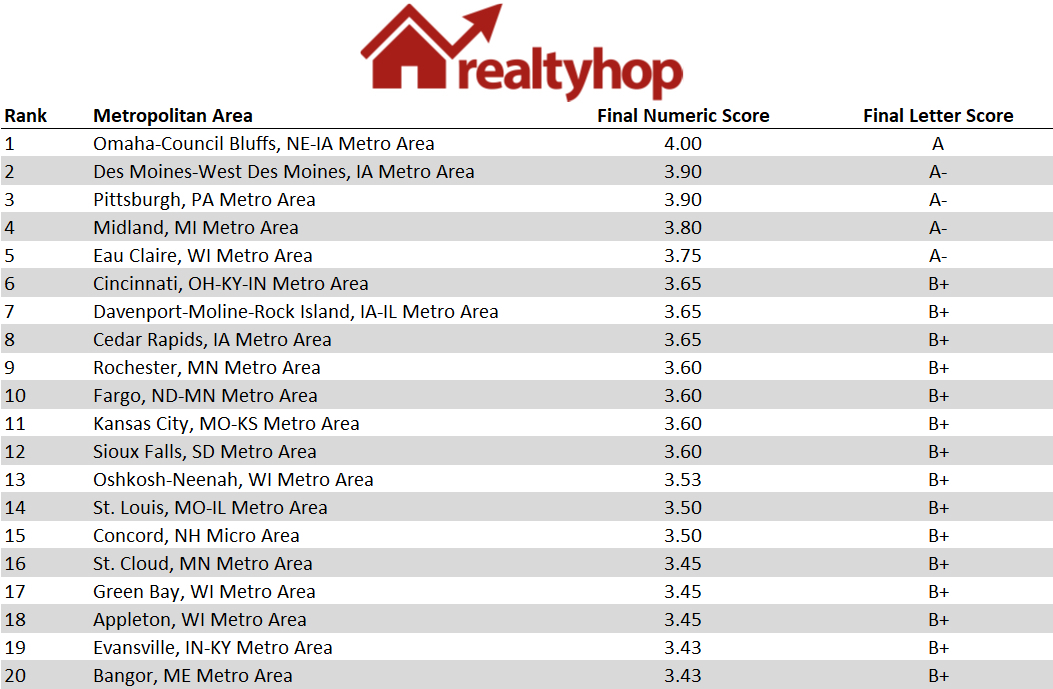 RealtyHop analyzed seven metrics in particular to come to the conclusion that these more modest regions might be a better bet than flashier options on the coasts. These are:
Median home value

Median household income for people between the ages of 25 and 44

The home value-to-income ratio (how many years you'd have to save to afford a median home on the median income)

The proportion of out-of-state residents (higher was graded better) for ages 25 to 34

Labor participation for people age 25 to 29

The ratio of how many people in the area have jobs compared to total population for ages 25 to 29

Percentage of population with a bachelor's degree or higher