inman - Bryson Masse —Predictive listings service RealtyHop says the metropolitan areas of Omaha-Council Bluffs, Des Moines and Pittsburgh are better bets than NYC or LA.
Where should Millennials looking to buy a home move to? RealtyHop, a startup sale and rental listings portal that attempts to predict what a property will rent for, crunched U.S. Census data and figured out the best metropolitan areas for millennials.
And the results are fairly surprising: famed destination cities NYC and Los Angeles did not fare well in the analysis.
The number one city for millennials today is the metropolitan area connecting Omaha, Nebraska and Council Bluffs, Iowa.
The next top two cities on the ranking are Des Moines, Iowa and Pittsburgh, Pennsylvania.
"When it comes time to pick a place to live, there's an astounding amount of both cultural and social pressure to simply move to where everyone else is – as a result of this, many people move to coastal cities like New York or Los Angeles because it's 'the thing to do,'" wrote RealtyHop. Instead it presented a more evidence-based approach to picking cities to move to as a millennial.
Here are the top 20: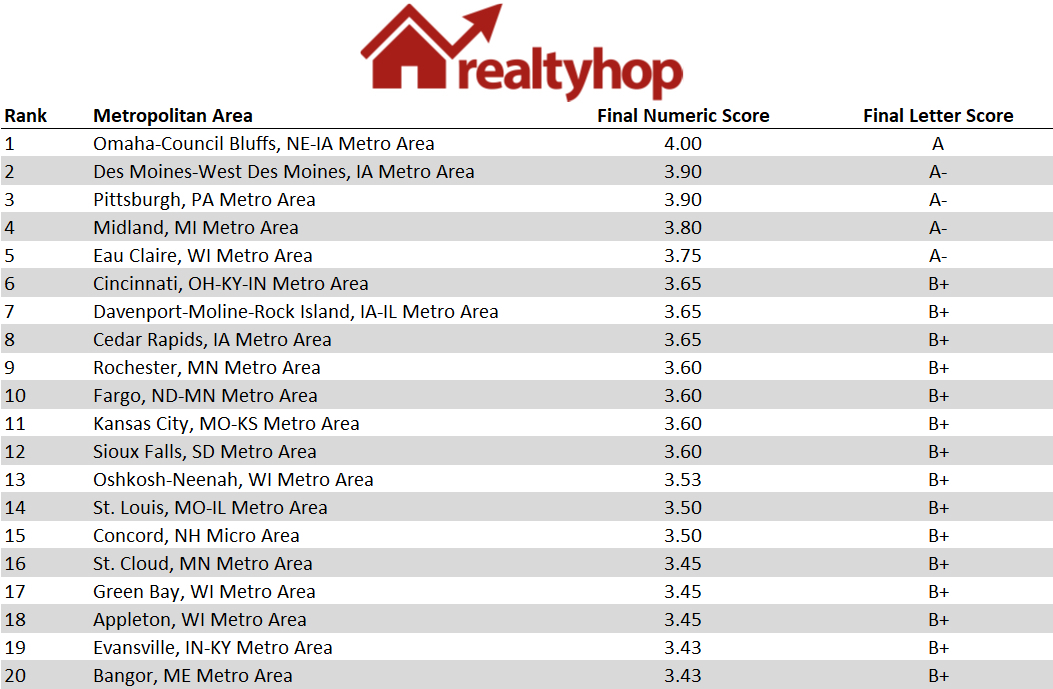 RealtyHop analyzed seven metrics in particular to come to the conclusion that these more modest regions might be a better bet than flashier options on the coasts. These are:
Median home value

Median household income for people between the ages of 25 and 44

The home value-to-income ratio (how many years you'd have to save to afford a median home on the median income)

The proportion of out-of-state residents (higher was graded better) for ages 25 to 34

Labor participation for people age 25 to 29

The ratio of how many people in the area have jobs compared to total population for ages 25 to 29

Percentage of population with a bachelor's degree or higher